Slow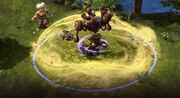 A unit that is Slowed has reduced Movement Speed for the duration, indicated by a purple whirl at the unit's feet. Slows subtract a percentage of a unit's movement speed, with most heroes naturally moving at the base speed of 100% so a 20% slow would reduce a heroes' movement speed to 80%. Slows can prevent a unit from positioning correctly, however unlike a Root they do not have any effect on dash or teleport skills, so a Valla using "Vault" will travel the same distance whether slowed or not slowed. Slows from different sources do not stack so only the one with highest value is effective, but if a lower potency slow lasts longer than a stronger slow it will remain in effect once the strong slow wears off. If a unit is simultaneously affected by a Movement Speed buff and a Slow, the unit's Movement Speed will be determined by their difference.
"Executioner" and its variants increase damage against slowed targets.
"Imposing Presence" and its variants slows nearby enemy heroes and summons.
"Nexus Blades" and its variants slow enemies hit with basic attacks.
Junk Swarm Host's ability, "Slime Pod Poison", slows enemies hit by 50% for 3 seconds.
On Alterac Pass, there are Mud Pits that slow units that walk over them by 16% per second, up to 60%.
Statistics

 

Attack

_

Basic Attack ( Attack Range • Attack Speed) • Ability (Resource ( Mana) Spell Power • Cooldown)
Defense

_

Health • Health Regeneration • Healing (Healing modifier • Lifesteal) • Shield • Armor
Utility

_

Movement speed

Buffs

_

Absorbing • Evade (Parry) • Healing • Invulnerable • Protected • Stasis • Stealth • Shields • Unkillable • Unstoppable • Untargetable

Debuffs

_

Attack Slow • Blind • Crowd control • Damage over Time • Knockback • Revealed • Root • Silence ( Fear • Mind Control • Polymorph • Taunt) • Slow • Stun ( Sleep) • Time Stopped