Second Anniversary
The Second Anniversary, was a unique event in Heroes of the Storm that ran from May 30, 2017 until June 12, 2017.
Play 3 Games in Versus A.I., Quick Match, Unranked, or Ranked during the Anniversary.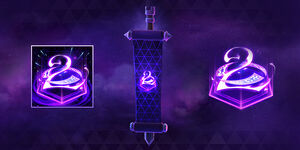 The anniversary items will be exclusive to this event and will not be available for Shard crafting or from Loot Chests.