L80ETC
The subject of this article or section did not make it out of the alpha stages of Heroes of the Storm.

• The in-game information in this article or section is kept purely for historical purposes.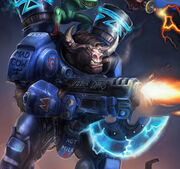 L80ETC was a hero from the Blizzard Entertainment Warcraft franchise. He appeared in the early builds of Heroes of the Storm. He had a thick skin and benefited from strength items. He had a short-ranged gauss rifle.[1] In the current version of the game, he has been replaced by E.T.C.—effectively the same concept, but no longer a tauren marine.[2]
Life: 6
Attack: 1
Abilities: 4
Speed: 1[1]
Endurance Aura
Piercing Shells
Rampage
Rocket Blast
Scattershot
War Stomp[1]