Knockback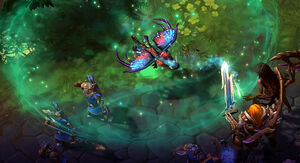 A knockback (also called daze) effect is a debuff effect that pushes enemies in a direction. While dazed the targets cannot act similar to a Stun. Dazes can interrupt stationary channeled abilities like E.T.C. Mosh Pit, but not mobile channeled abilities like Li Li's Jug of 1,000 Cups or Azmodan's All Shall Burn. Creating unpathable terrain that displaces someone (E.G. Tassadar's Force Wall) does not count as a daze and will not cancel a stationary channeled ability. Some abilities that daze also have a Stun as an added effect like Muradin's Haymaker, which applies a full stun to the primary target before knocking them back, allowing it to also cancel mobile channels.
Prior to the Eternal Conflict all knockback effects were treated as stuns and would fully interrupt any form of channeled ability. This was changed with the patch on 7/27/2015 that added dazes as their own effect separate from stuns.[1]
Immortals can daze enemies in a large circular area around them and then stun them in the end.
A greater Sky Temple Guardian can daze enemies for .75 seconds.
Statistics

 

Attack

_

Basic Attack ( Attack Range • Attack Speed) • Ability (Resource ( Mana) Spell Power • Cooldown)
Defense

_

Health • Health Regeneration • Healing (Healing modifier • Lifesteal) • Shield • Armor
Utility

_

Movement speed

Buffs

_

Absorbing • Evade (Parry) • Healing • Invulnerable • Protected • Stasis • Stealth • Shields • Unkillable • Unstoppable • Untargetable

Debuffs

_

Attack Slow • Blind • Crowd control • Damage over Time • Knockback • Revealed • Root • Silence ( Fear • Mind Control • Polymorph • Taunt) • Slow • Stun ( Sleep) • Time Stopped