Daily Quest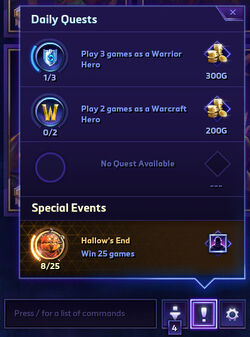 Quests are special objectives available to players. Completing the stated objectives will grant the player a reward, ranging from gold to special portraits.
Each player is awarded one daily quest each day at 3am PT. Players can have a maximum of three daily quests at a time. In addition to these, in-game events sometimes bring special quests.
Players can view their current quests and quest progress through the exclamation mark icon at the bottom right of the game menu screens.
Note: game played in any mode with Draft counts towards "play X games as *" regardless of hero type.[1]
The following is a partial list of special quests available during events. These do not occupy a normal quest slot but appear in addition to them.
| Name | Objective | Reward |
| --- | --- | --- |
| Lunar Festival (2015) | Play 10 Games | Lunar Festival portrait |
| Hallow's End (2015) | Win 25 Games | Jack-o'-Lantern portrait |
| Feast of Winter Veil (2015) | Play 15 Games | 4 days Stimpack |
| Feast of Winter Veil (2015) | Play 50 Games | 10 days Stimpack |
| Lunar Festival (2016) | Play 25 Games | Monkey Elder portrait |
| Hallow's End (2016) | Play 15 Games | Deputy Valla portrait |

Eternal Conflict
| Objective | Reward |
| --- | --- |
| Kill a treasure goblin | 100 gold |
| Kill 50 treasure goblins | Eternal Conflict portrait |
Machines of War
| Objective | Reward |
| --- | --- |
| Collect 12 Xel'naga Artifacts | 1 day Stimpack |
| Collect 150 Xel'naga Artifacts | Xel'naga Artifact portrait |