CarbotAnimations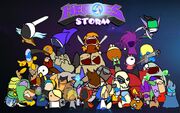 CarbotAnimations is the name of YouTube channel created by the Canadian animator Jonathan Burton. It focuses on series of cartoons parodying several popular Blizzard Entertainment games such as StarCraft II (and BroodWar), World of Warcraft, Hearthstone, Heroes of the Storm and Overwatch. Respectively, the ongoing cartoon series are named: StarCrafts, WowCraft, WarCrafts III, HurtStone, DiabLol, HeroStorm and UnderWatched.
Jonathan Burton started creating cartoons on 2012 two years after StarCraft II: Wings of Liberty was released. He was inspired by Blizzard itself, so he supported Blizzard by making videos about their games and advertising their new features.
Jonathan Burton went to school for animation, and during his second year he got bored with it. And so started to use YouTube as a free option. He did three episodes before he released the first one and within the first month he got twenty-five thousand subscribers.
The CarBot Animations Team grows and shrinks at times: They have two animators that Jonathan Burton met online, who are part-time. Jonathan Burton himself does most of the animation and storyboarding, his brother Sam helps out with storyboarding and ideas, and does all the audio for the episodes, and his wife Justine does "a lot of the taxes and all the fun stuff".[1]
Heroes of the Storm Videos
[
edit
|
edit source
]
Despite the simplified cartoonish art style of the series, the Heroes are still surprisingly recognizable as the characters they are intended to be. Many of the episodes parody common situations encountered in gameplay, such as the childish Chromie always missing her skillshots, or Johanna being unstoppable, which is exaggerated to humorous levels.
During his IdBeCoolif series, Jonathan Burton suggests Heroes with his concepts.
Heroes of the Storm Content
[
edit
|
edit source
]
These portraits can be earned by either forging

120 /

75 or by receiving from a Loot Chest roll.
Carbot Portraits

 


Carbot Abathur


Carbot Alarak


Carbot Alexstrasza


Carbot Ana


Carbot Anduin


Carbot Anub'arak





Carbot Artanis


Carbot Arthas


Carbot Auriel


Carbot Azmodan


Carbot Blackheart


Carbot Blaze





Carbot Brightwing


Carbot Butcher


Carbot Cassia


Carbot Chen


Carbot Cho


Carbot Chromie





Carbot D.Va


Carbot Deathwing


Carbot Deckard


Carbot Dehaka


Carbot Diablo


Carbot E.T.C.





Carbot Falstad


Carbot Fenix


Carbot Gall


Carbot Garden Terror


Carbot Gazlowe


Carbot Garrosh





Carbot Genji


Carbot Grave Golem


Carbot Greymane


Carbot Gul'dan


Carbot Hanzo


Carbot Headless Horseman





Carbot Horsey


Carbot Illidan


Carbot Imperius


Carbot Jaina


Carbot Johanna


Carbot Junkrat





Carbot Kael'thas


Carbot Kel'Thuzad


Carbot Kerrigan


Carbot Kharazim


Carbot Leoric


Carbot Li Li





Carbot Li-Ming


Carbot Lost Vikings


Carbot Lt. Morales


Carbot Lúcio


Carbot Lunara


Carbot Maiev





Carbot Malfurion


Carbot Mal'Ganis


Carbot Malthael


Carbot Medivh


Carbot Mei


Carbot Mephisto





Carbot Minion


Carbot Muradin


Carbot Murky


Carbot Nazeebo


Carbot Nova


Carbot O.G. Dragon Knight





Carbot Orphea


Carbot Probius


Carbot Punisher


Carbot Qhira


Carbot Ragnaros


Carbot Raynor





Carbot Rehgar


Carbot Rexxar


Carbot Samuro


Carbot Sgt. Hammer


Carbot Sonya


Carbot Stitches





Carbot Stukov


Carbot Sylvanas


Carbot Tassadar


Carbot Temple Guardian


Carbot Thrall


Carbot Tracer





Carbot Tychus


Carbot Tyrael


Carbot Tyrande


Carbot Uther


Carbot Valeera


Carbot Valla





Carbot Varian


Carbot Webweaver


Carbot Whitemane


Carbot Xul


Carbot Yrel


Carbot Zagara





Carbot Zarya


Carbot Zeratul


Carbot Zul'jin
Carbot Sprays

 


Army of my Friends

250

/

300


Bad Romance

250

/

300


Can't Touch This

250

/

300


Death Rides a Horsie

250

/

300


Evade This...

250

/

300


Everyone Loves a Medic

250

/

300


Friendship is Voodoo

250

/

300


Head in the Brush

250

/

300


Ha HA ha HA!

250

/

300


Hot Bath

250

/

300


Lost and Found

250

/

300


Making It Rain

250

/

300


Mosh Party!

250

/

300


Ninja Skills

250

/

300


Overpowered

250

/

300


Paryin' with Varian

250

/

300


Sleeping Dragon

250

/

300


Tall, Dark, and Sadistic

250

/

300


You're in Rough Space

250

/

300


Carbot Abathur

120

/

75


Carbot Alarak

120

/

75


Carbot Alexstrasza

120

/

75


Carbot Ana

120

/

75


Carbot Anub'arak

120

/

75


Carbot Artanis

120

/

75


Carbot Arthas

120

/

75


Carbot Auriel

120

/

75


Carbot Azmodan

120

/

75


Carbot Blackheart

120

/

75


Carbot Blaze

120

/

75


Carbot Brightwing

120

/

75


Carbot Butcher

120

/

75


Carbot Cassia

120

/

75


Carbot Chen

120

/

75


Carbot Cho

120

/

75


Carbot Chromie

120

/

75


Carbot D.Va

120

/

75


Carbot Deckard

120

/

75


Carbot Dehaka

120

/

75


Carbot Diablo

120

/

75


Carbot Dragon Knight

120

/

75


Carbot E.T.C.

120

/

75


Carbot Falstad

120

/

75


Carbot Fenix

120

/

75


Carbot Garrosh

120

/

75


Carbot Gazlowe

120

/

75


Carbot Gall

120

/

75


Carbot Garden Terror

120

/

75


Carbot Genji

120

/

75


Carbot Grave Golem

120

/

75


Carbot Greymane

120

/

75


Carbot Gul'dan

120

/

75


Carbot Hanzo

120

/

75


Carbot Headless Horseman

120

/

75


Carbot Horsey

120

/

75


Carbot Illidan

120

/

75


Carbot Imperius

120

/

75


Carbot Jaina

120

/

75


Carbot Johanna

120

/

75


Carbot Junkrat

120

/

75


Carbot Kael'thas

120

/

75


Carbot Kel'Thuzad

120

/

75


Carbot Kerrigan

120

/

75


Carbot Kharazim

120

/

75


Carbot Leoric

120

/

75


Carbot Li Li

120

/

75


Carbot Li-Ming

120

/

75


Carbot Lost Vikings

120

/

75


Carbot Lt. Morales

120

/

75


Carbot Lúcio

120

/

75


Carbot Lunara

120

/

75


Carbot Maiev

120

/

75


Carbot Mal'Ganis

120

/

75


Carbot Malfurion

120

/

75


Carbot Malthael

120

/

75


Carbot Medivh

120

/

75


Carbot Mephisto

120

/

75


Carbot Minion

120

/

75


Carbot Muradin

120

/

75


Carbot Murky

120

/

75


Carbot Nazeebo

120

/

75


Carbot Nova

120

/

75


Carbot Orphea

120

/

75


Carbot Probius

120

/

75


Carbot Punisher

120

/

75


Carbot Ragnaros

120

/

75


Carbot Raynor

120

/

75


Carbot Rehgar

120

/

75


Carbot Rexxar

120

/

75


Carbot Samuro

120

/

75


Carbot Sgt. Hammer

120

/

75


Carbot Sonya

120

/

75


Carbot Stitches

120

/

75


Carbot Stukov

120

/

75


Carbot Sylvanas

120

/

75


Carbot Tassadar

120

/

75


Carbot Temple Guardian

120

/

75


Carbot Thrall

120

/

75


Carbot Tracer

120

/

75


Carbot Tychus

120

/

75


Carbot Tyrael

120

/

75


Carbot Tyrande

120

/

75


Carbot Uther

120

/

75


Carbot Valeera

120

/

75


Carbot Valla

120

/

75


Carbot Varian

120

/

75


Carbot Webweaver

120

/

75


Carbot Whitemane

120

/

75


Carbot Xul

120

/

75


Carbot Yrel

120

/

75


Carbot Zagara

120

/

75


Carbot Zarya

120

/

75


Carbot Zeratul

120

/

75


Carbot Zul'jin

120

/

75
Carbot Alliance Pack
Carbot Horde Pack
Emoji
Name
Shortcuts
Emoji
Name
Shortcuts
Carbot Chromie
:chromiecarbot:
Carbot Kael'Thas
:kaelthascarbot:
Carbot Greymane
:greymanecarbot:
Carbot Murky
:murkycarbot:
Carbot Lunara
:lunaracarbot:
Carbot Ragnaros
:ragnaroscarbot:
Carbot Uther
:uthercarbot:
Carbot Thrall
:thrallcarbot:
Carbot Yrel
:yrelcarbot:
Carbot Zul'jin
:zuljincarbot:
Carbot Diablo Pack
Emoji
Name
Shortcuts
Carbot Auriel
:aurielcarbot:
Carbot Cain
:caincarbot:
Carbot Johanna
:johannacarbot:
Carbot Nazeebo
:nazeebocarbot:
Carbot Diablo
:diablocarbot: